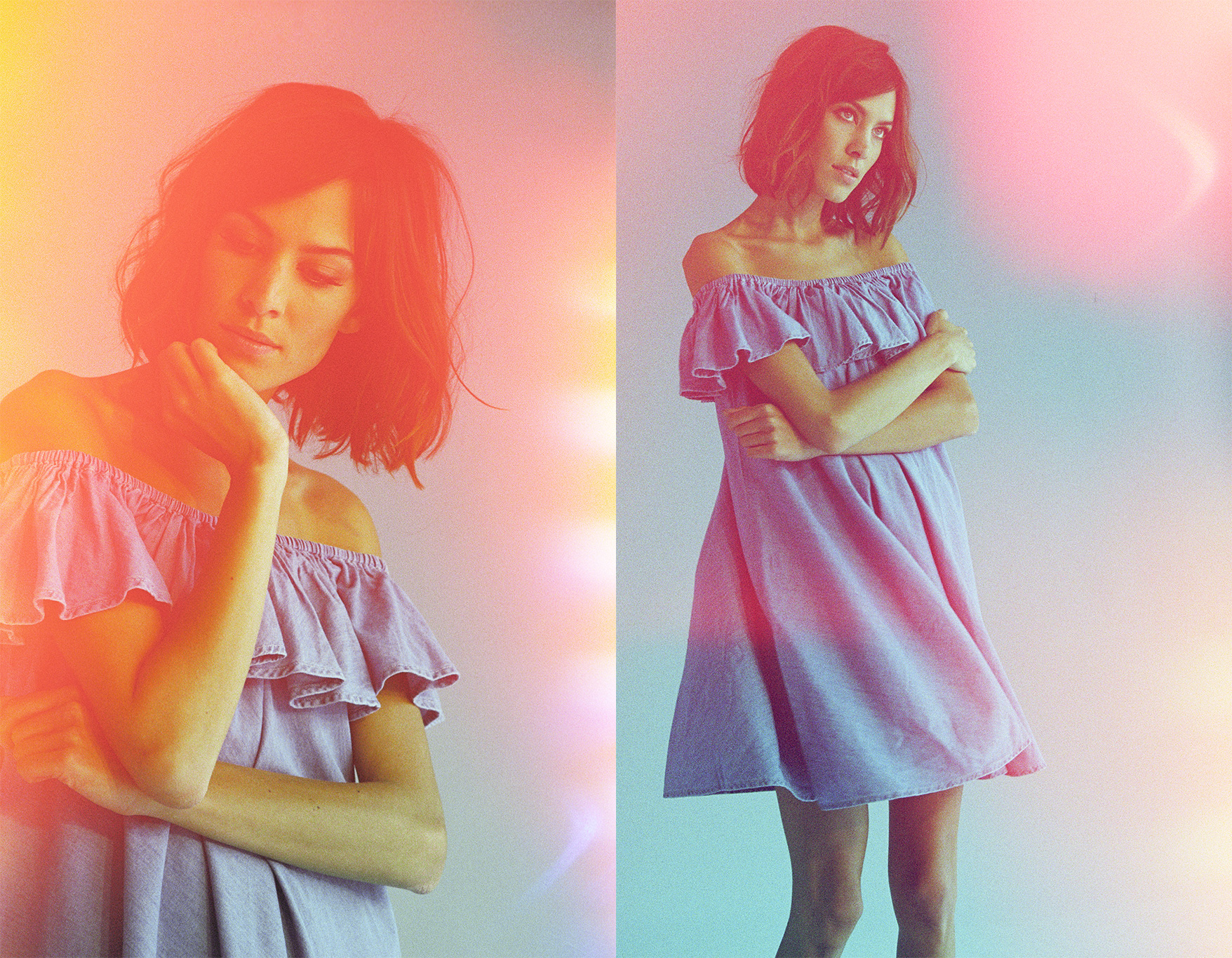 Style.com: "OK, Bitches, It's My Time": Alexa Chung Discusses Her AG Collab
By now you've read about Alexa Chung's collaboration with AG. The 21-piece denim collection launched last week. But did you hear that it was inspired by her '90s childhood? And do you know that it's an ongoing partnership? Next season, Chung told us at our photo shoot, there will be much more than jeans. Read on to get all the facts and learn why an Alexa Chung lifestyle brand is just one smart business partner away. And don't miss our exclusive slideshow in which Chung models five of her favorite items from the new line.
How did the collection come about?
AG contacted my agent and asked if I would consider working with them. [So] I flew out to L.A. to meet [AG president] Sam [Ku] and [director of global communications] Johnathan [Crocker]. They picked me up in a car and played really cool music, and then we went to their factory, and everyone there was really nice, and they took me to a really delicious restaurant, as well. They wined and dined me. [laughs] I thought,They'd be quite nice to work with. I'd like to spend most of the year in L.A. designing denim with these people.
Where did inspiration for the collection come from?
I think a lot of it is quite '90s, even though I've released a statement saying it was '60s and '70s. A lot of it is stuff from my childhood, like the button-up skirt and overalls. They're all quite childish things. I was looking at motorbike gangs, worn-in denim, the type of denim that men manage to attain. Non-stretch raw denim when it turns actually old—I was interested in replicating that in terms of the washes. And then shape-wise, just trying to make my dream skinny jean with the crop and trying to make practical things that were quite basic and simple. The next collection is a bit more [whistles].
Is there a denim shape that you hate?
Hipster boot-cut. Ultra-low-rise fly. Gives you muffin top. Gives me muffin top and I'm pretty skinny, so I don't even know.
Tell me about the origin of the AG "J'ai du vague à l'âme" sweatshirt.
It's literally "I feel melancholy," but in France it means "My soul is in the waves." I've been learning French a bit through my work with Longchamp and I've been in France quite a lot. And I really love how they express themselves. I especially love when something is untranslatable. That's what someone said about "J'ai du vague à l'âme." I asked, "How do you say it in English?" And they said, "You don't really have it, it's unexplainable." It's often emotional things, so I was just really drawn to that idea that there's this chasm that exists between countries where there are some things that are literally lost in translation. Like, does that mean we don't feel the same way? Because we've never had a need to make a phrase around that in the same way that they did? I really like that. Also, if you're looking at it the wrong way, it just looks like you're wearing a sweatshirt that says "vague" and "lame."
You've done several collaborations at this point. Do you have aspirations to have your own line in the future?
Definitely. The year before last, I was still doing Fuse News every day, so I was focusing on TV. And last year was spent flying back and forth to L.A. designing this. So it's just been not an opportune moment to start it. And then also I don't even know how you do that. Like, I know how to design clothes, but I don't know how to start a business. Like, how am I going to do that? So as soon as I figure it out, it'll exist.
Your karaoke song in the AG/MyTheresa video was your public singing debut. Do you have a desire to explore that more?
I wouldn't say I was reluctant to do it, but I wasn't like, "Hey, guys, I've got this idea..." It actually came from my friend Ant who works at MyTheresa. He phoned Bianca [my publicist] and was like, "I've got a crazy idea, Bianca. It's Chung singing karaoke." My friends know that I'm obsessed with doing karaoke and I do it too much. And then he knew about this song "Blue Denim" and just thought that it'd be a good idea. I said I would do it if we could get a really good director and if Blood Orange [aka Dev Hynes] would produce it. So I texted Dev and said, "In a serious way, do you think I would be able to pull off doing this?" And he said, "Absolutely." And I was like, "Not as a mate, do you think I could actually pull it off? Because I would only do it if we, like, genuinely recorded it," and he was like, "Yeah." And then [director] Gia [Coppola] said yes. And then we did it.
Was that your first time in the recording studio?
Definitely. Well, I've been a groupie before and I've spent a lot of time watching other people do it, but it was fun to get in the booth and be like, "OK, bitches, it's my time."
Which designers are inspiring you at the moment?
I love Simone Rocha. I just think she's really clever. And similarly, another Brit, I like Emilia Wickstead. They're both making very concise collections that are just a couple of simple ideas and then different variations on the fabric and color. I saw that Gucci men's collection today and that looked really good. I don't know what everyone else thinks, but I thought it was great. And I'm obsessed with Louis Vuitton right now. Like, obsessed. Like, feel sick when I get to be on a shoot and wear one of their things. I don't understand why it's so perfect. Then I'm just obsessed with buying cashmere Uniqlo jumpers a lot. And…Zara…? [laughs]
What are you coveting from the Spring runways?
I really want that Simone Rocha yellow cardigan with the marabou. That's really nice.
You mention Jane Birkin and Françoise Hardy as style inspirations. Are there any lesser-knowns you look to?
I was actually Googling pictures of Joan Didion right before the Céline thing, and then I was like, "There you go." It's a weird day and age when you can tire of icons simply by overexposure. Which I'm sure is true of me, as well—girls being like, "Ugh." Kate Moss never fails to be exciting, if you Google "Kate Moss '90s." Chloë Sevigny, always great. My friends, I find quite inspiring, like Christopher Niquet. Just lots of dudes. I always look at how dudes dress. They do one slightly feminine thing and it makes something look really chic. Like, if you're a dude wearing a white T-shirt with a pale pink cashmere and then an army jacket and then another thing…it's, like, more natty.
What shows are you looking forward to in February?
I've spent the last few years being really good at attending lots of things, but suddenly I was like, "Well, I should be, like, making things." I love London fashion week. So I'll probably be at Christopher Kane, Erdem, Topshop, House of Holland—London's really my fave. I think it's just 'cause I'm from there and I know everyone. I think the scale of New York is very impressive. I love the Marc by Marc show, the Marc Jacobs show. Paris is lovely because you can go and have lovely tea. Chanel. Chanel is never crap, is it?
Where do you have tea in Paris? What other places do you try to make time for?
The Bristol. I think that's great for tea. Delicious. And then it's just a classic case of Hôtel Costes, isn't it?
What are your thoughts on street style?
It's not like the '80s or before that when you could have microcosms and tribes that existed in cities. The Internet has kind of flattened that like a fashion bomb and now it's harder to be unique. I don't like when people seem to put every single thing on and just walk up and down outside waiting to be photographed. I think that's a bit lame. It's like, "Why are you putting that coat on and that and that…we get it—you like fashion, you don't have to do it all at once."
Have you had any pinch-me fashion moments?
One time we were playing hide-and-seek in Cannes after a Chanel show with friends that happened to be there. And I was like, "This is so insane that we got invited here and we're playing hide-and-seek." We were in the most beautiful hotel in the world and we're, like, hiding in the bushes and getting drunk in, like, gorgeous outfits. I was just like, "This is silly, it's too nice."
What are you planning to wear to the shows next month?
I phoned Burberry because I was wondering if they still made long trenches, and they don't. Maybe I'll find a vintage one.